Last night I was browsing an online fabric sale and I was able to purchase some beautiful fabric to make a top for myself. My husband definitely spoils me. When he first saw me browsing, he mentioned that he thought I had enough things to make right now but he still said ok to buying the fabric!
What I bought was some of Anna Maria Horner's Little Folks voile fabric. I've been dying to see this fabric in person and be able to touch it but none of the local fabric stores carry it.
Coloring Garden - Sea (Main Fabric)


Diamond Mine - Ink (Accent Fabric)
Melanie at Above All Fabric was helping me out last night via Twitter figure out my yardage. At first I wanted to get the Torii Tunic pattern from her shop then I remembered I had this pattern: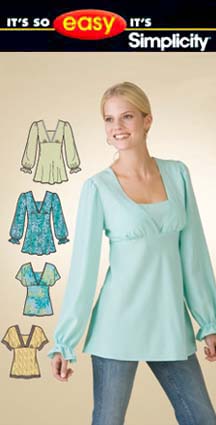 Simplicity 3842 - Bias Tunic Top
I wanted to make a very "flowy" tunic top and this fits the bill! I'm not keen on those sleeves though. I'll be changing them to bell sleeves.
I've been wanting to fill up my closet with clothes that I've made for myself and this will be a nice addition to that.