Remember this pattern: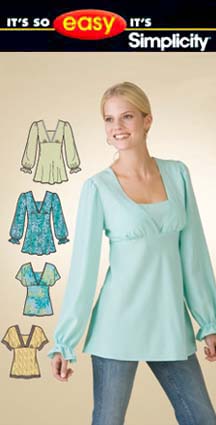 And this fabric:
I combined them to make this top!
Ok, so I wasn't able to use the Diamond Mine fabric but I've got enough of it to make myself a purse to go with this outfit!! WOOHOO! lol That'll be in 2 weeks though.
This was a very easy pattern to follow and make. I did have to make a couple of "upgrades" though. lol The first change was a major one; the sleeves. I mean look at that pattern picture, they look like sausages or something! I envisioned for my top beautiful, flowy sleeves. It took me the better part of an hour learning how to make the changes necessary to the pattern to remove the gathers and change the shape. But they do look lovely! The second change was just not making the inset for the front. Since I had to wear a camisole for this top anyway I thought I might as well skip it.
One change I wish I would have made is the tunic bottom. I should have made it 1 size larger to give me slightly more ease. Other than that the top is perfect!
I decided to add this lace trim to the front after finding it in a large bag of notions I scored from a garage sale. I think it really finishes off the front of the tunic.
Here is a pic of the inside looking oh so lovely with french seams and all! Since this top was unlined I decided it needed a nice inside finish. It was my first time doing them and it does take longer with the extra step but it is so worth it!
You also get a peek at the bias binding that finished off the V neck. I didn't realize I needed it (I should have read the pattern thoroughly) but was lucky to also find this in my big bag of notions.
Working with this fabric was a dream! If you haven't tried sewing with Anna Maria Horner's Voile line I highly recommend you do so especially if you like to make yourself lovely clothes! It was so soft but not slippery. Very easy to sew with.
This top is going to be perfect for my trip to the hot and humid midwest next week.